Next Generation IoT and Edge Computing Strategy Forum
April 22, 2021, 09:00

–

17:00
Views on a strategic European vision for (Far) Edge Computing in the Next-Generation Internet of Things
There are a few seats left for this on-line workshop, which offers talks and discussions on System Integration Platforms, Ecosystems and Alliances, Trust and Trustworthiness and Visionary Concepts.
TECoSA Director Martin Törngren will be taking part in the Visionary Concepts panel, considering key questions such as:
* What are new emerging concepts that address the emerging IoT and edge orchestration paradigms?
* Which are the main challenges for their implementation, and which players would be needed?
* What is the time horizon by which these concepts are expected to be mature for market adoption?
* Where do you see the role of European partnerships and the potential relevance of their roadmaps?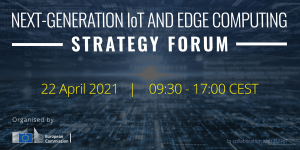 You can find out more and register for this event via:
https://app.swapcard.com/event/next-generation-iot-and-edge-computing-strategy-forum