Horizon Europe Cluster 4 (Digital, Industry and Space) – Information Days
November 29, 2021, 09:00

–

December 1, 2021, 18:00
Under pillar II of Horizon Europe, Cluster 4 focuses on Digital, Industry and Space and aims to deliver on the following six destinations matching the Strategic Plan:
* Climate neutral, circular and digitised production
* Increased autonomy in key strategic value chains for resilient industry
* World leading data and computing technologies
* Digital and emerging technologies for competitiveness and fit for the Green Deal
* Open strategic autonomy in developing, deploying and using global space-based infrastructures, services, applications and data
* A human-centred and ethical development of digital and industrial technologies

The purpose of the information days (29 Nov – 1 Dec) is to inform possible applicants about topics covered by Horizon Europe Cluster 4.  The sessions can be attended online, and no registration is required.  For the programme and other information, please see:  Cluster 4 – Digital, Industry & Space | European Commission (europa.eu) 
In addition, on 2 and 3 December,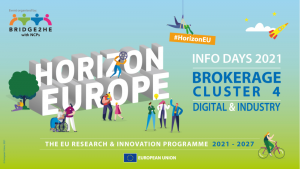 Bridge2HE (the network of National Contact Points) is organising a BROKERAGE EVENT with pre-arranged online Face2Face meetings to complement the Cluster 4 Information Day and the Digital Europe Information Day on sectorial AI TEFs calls with a 2022 deadline.